Katherine Pappas-Parks
Homepage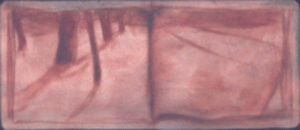 Welcome to Katherine's Webpage.  Katherine is an extraordinary artist whose art has transformed and grown during the different stages of her life.  Here you can view the recent work of this important artist. We invite you to explore her Galleries and the other sections of this website which present and discuss her artwork.
Visit Katherine's Exhibition page to learn about her current and upcoming exhibitions and her Essays page to read a recent essay by Iliana Schoinas.
Katherine's Artwork
Katherine's painterly realistic paintings achieve a realistic representation, however, she paints not only what she sees, but how she sees; the painting becomes a record of perceiving and an "at-that-moment" document of what the painter is experiencing both internally and externally.  The evolution of Katherine's work coincides closely with her personal experiences as well as the artistic and cultural influences on her artwork. Surrealism and Magical Realism have impacted her art and resonate with her awareness and perception of the world.  These influences on Katherine's work are complimented by the significance of the Greek culture in her artistic expression.  The mystical aspects of the Greek culture such as the folktales, superstition, religion, and everyday rituals were the impetus for Katherine giving way to imagination and created the environment for her to be open to the ideas in surrealism and magical realism.
Finding a connection and familiarity to the words and images of surrealists and magical realists, Katherine has been inspired by the images and writings of the surrealists, De Chirico, Bunuel, and Margritte, and the Magical Realists Borges and Marquez.  Katherine's paintings have been described as Painterly Realism and Magical Realism and contain objects that are symbolic and often have spiritual and mystical meanings in themselves.
Katherine's earlier series contains many symbols and objects and focuses on the intricacies and details of the objects. The more recent series also focuses on the symbolism of objects, but it expands its view from more minute details of the object to the grand and often spiritual impact of natural landscapes.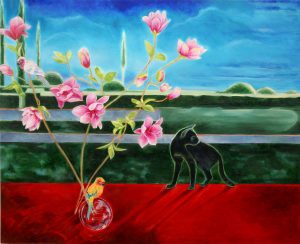 Artist History
Katherine currently lives Portland, OR where she is inspired by the magnificence and intensity of the natural landscapes, flora and fauna of the Pacific Northwest.  She grew up in Detroit, Michigan and enjoyed many years in Chicago.  View the Artist History where you can read Katherine's brief biographical narrative.